Brunel Engraving invests in innovative laser engraving system to enhance component marking capability for the aerospace industry.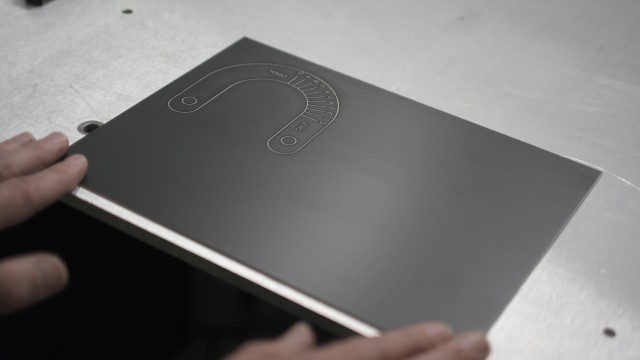 We have become the first business in Europe to take delivery of the latest, most powerful Epilog Galvo Laser engraving machine – the Epilog G2 Galvo Laser System.
The state of the art system will enable us to engrave on virtually any metal and plastic component, providing a solution to virtually every engraving requirement, from small labels to complicated aeronautical parts.
Manufactured by Epilog in the USA and supplied by CSI, Epilog's UK and Ireland distributors, the Epilog G2 Galvo was installed on Monday, 5th June 2017.
The new G2 is the first Galvo laser system that can laser mark over a large work area without compromising engraving quality or requiring product indexing. It features an air-cooled, pulsed fibre laser that engraves at fast speeds over an adjustable engraving area, spanning up to 609 x 609 mm. The machine can mark and deep engrave at high speed directly onto most metals and industrial plastics without the need for any pre or post-treatments. There is no contact between the laser and the component, eliminating clamping marks.
This is a major investment in the very latest engraving technology for us, which will enable us to mark virtually any metal and plastic component as a one off or in volume.
"We have supplied companies such as BAE Systems and Agusta Westland, alongside small, privately owned concerns including private aircraft and flying clubs, for many years and we have always invested in the latest technologies to improve our efficiency and enhance our portfolio of products", said Martyn Wright, our managing director.
"We are leading Europe with our investment in the G2 which will take our component engraving capability for the aerospace industry to the next level, enabling us to tackle ever more complex and diverse requirements."